http://scarletaingeal.blogspot.com/2015/01/highlights-of-2014.html
Another year, another reading challenge and another Hogmanay hangover, lovely!
So, it's now the first of January. My Mum always used to say to me.. Enjoy the years while you can, they go by a lot faster the older you get. I never believed her but what do you know, Mothers are always right. I get a lot more satisfaction out of saying that now I'm a mother myself.
Before I go any further I want to say, Happy Hogmanay folks and many oh them. An' lang may yer lum reek!
Everyone else is in bed still sleeping off their overindulgence of alcohol, lightweights that they are. It's been so busy over the Christmas and Hogmanay season here but I finally have to time to sum up my year of books, my favourites and the flops.
I think I slightly underestimated how many books I would read in 2014 and set my reading challenge to 60 and finished on 165. When I first started cataloguing my books I was lazy and didn't put dates in for a lot of them and just rated them instead. So although my challenge says I read 165, I think it is more around the 200 mark. I guess one of my Hogmanay resolutions should be to be add read dates for every book!
Just for the hell of it I'm gonna throw in some stats.
The majority of the books I read were published in 2014 (some not till 2015)
Books read - 165
Pages read - 35,850
Books marked as DNF - 7
Longest book read - No One Gets Out Alive by Adam Nevill 628 pages
5 star reads - 45
4 star reads - 65
3 star reads - 29
2 star reads - 15
1 star reads - 8
86 of the books I read were provided for review from NetGalley.
The rest are a mixture of books provided free for review through my blog/Amazon or direct from authors, and of course purchased books.
Top Ten Favourites
Fiction
1 -
The Martian by Andy Weir
(click for review)
There was a lot of hype surrounding this book, all my friends loved it and I was somewhat apprehensive about reading this one. I decided to take the chance and requested a copy from the publisher for review. I figured if I didn't like then at least my son would love it as he's really into astronomy and astrophysics. I actually really enjoyed it, it shot right to the top of my list for best read of 2014. The main character Mark Watney is the best male MC that I have come across in all my years of reading.
2 -
Devil's Day by Kyle M. Scott
(click for review)
I got to know the author of Devil's Day after reading his collection of shorts
Consumed: Volume 1
and have since become very good friends with him. I had the pleasure of beta reading this one and I knew right away it was going to be one of my top reads. It took me back to when I first started reading horror and what it was about the genre that I fell in love with. At the point of reading Devil's Day I had become slightly disheartened with the horror genre, the books I had been reading were good but they didn't give me the rush that I used to get when I first came to the genre. Devil's Day changed all that.
3 -
No Such Thing as Werewolves by Chris Fox
(click for review)
No Such Thing as Werewolves is the first full novel published by Chris Fox and what a novel. I was expecting to get a run of the mill werewolf story here but what I got was an extremely clever novel with a very unique and impressive plot, delivered at a gripping pace that had me hooked from start to finish. It's a very mixed genre with everything from horror, to thriller, to sci fi, to mystery, really it's got it all and it's a very impressive and clever debut.
4 -
Exorcist Road by Jonathan Janz
(click for review)
Exorcist Road covers one of my favourite topics in horror, demons and possession. Although it's an exorcism story it's also a mystery, someone is torturing and killing 16 year old girls and the young boy that's possessed in the story is being blamed . I was hooked on this one right from the first few pages. I didn't want it to finish, I kept putting it down to try and put off the inevitable but I was picking it right back up again, I just couldn't help myself.
5 -
What Hides Within by Jason Parent
(click for review)
I loved this book right from the first few pages, I don't know that I would place it as horror alone but it certainly ticked all the boxes for me in so much as I couldn't put the book down. I loved the humour in the story, the sarcasm and sharp one liners had me laughing out loud. You can tell by the cover that it has something to do with spiders and I hate spiders but I have to admit I even liked the character of the spider in this one.
6 -
Full Moon Over Cedar Hill by Edward Lorn
(click for review)
Full Moon Over Cedar Hill is a short story set in
Cedar Hill Rehabilitation Centre. Good stories covering the topic of this short are hard to come by and hats off to the author for pulling this one off. At just 15 pages it's rather short but there is so much packed into those pages. It's impressive just how much is in this short story and you wouldn't think such a short read could make such an impression as this one does. I'm usually not a fan of shorts but I loved this one, it kind of felt like a whole novel condensed into 15 pages of hard hitting supernatural horror.
7 - Omerion by
Angel Gelique
(click for review)
Samuel Rylandt in life was a serial rapist, in death he finds himself in a hell unlike you've ever read before.
This was one hell of a read, literally. It was twisted, creepy, dark, gory and an intense story of revenge. I have never enjoyed reading about someone getting their just deserts as much as I did while reading this.
8 - Don't Look Back by
Gregg Hurwitz
(click for review)
Don't Look Back is the perfect example of why I love Gregg Hurwitz books, fraught with tension, fear, peril and suspense this story had me on
tenterhooks
page after page. Many times during reading this book I realised I was tense and holding my breath, the tension was
palpable. It felt at times like I was in the middle of a really intense, action filled thriller/adventure movie.
9 - Graveyard Scavenger Hunt by
Brian Barnett
(click for review)
Pete has to stay with his grandparents for a few days, adjacent to their house is a graveyard that his grandfather has warned him not to enter. Of course kids being kids, Pete didn't listen. Upon entering the graveyard he comes face to face with
Benny "Bones" Barton who challenges him to a scavenger hunt in return for his freedom.
I had a lot of fun with this one. Graveyard Scavenger Hunt is a children's horror novel and what a wee gem it turned out to be. I had a smile on my face the whole time I was reading this one, I just wish my children were still young enough to have shared this with them and experienced it through their eyes.
10 -
Hacker (The Outlaw Chronicles #3) by Ted Dekker
(click for review)
This is one of those books that sets your mind spinning, has you stopping to evaluate what you thought you knew, what you thought you believed, has you thinking about life and death and what happens to who we are after our physical body is no more and it's all wrapped up in a fast paced story that centres around a teenage hacker. I was mind blown on finishing this book. It gave me all sorts of questions and things for my mind to ponder on after I had finished reading. I almost wanted to pick it up right away and read it all over again to try and digest what I had just read better.
Non Fiction
I prefer to read fiction so I didn't read a lot of non fiction in 2014 but there was one book that I connected with on such a personal level that I have got to make an exception and have a top 11 favourites list rather than 10.
I have linked to the review in the title but I'm just going to go ahead and copy the review into here as this book had such a profound effect on me that I want to share my thoughts. The link though will also link you to the book on Goodreads with other reviews and links to buy it etc.
On Dragonfly Wings by Daniela Norris
(click for review)
Reading this book reminded me very much of my own journey and experiences. I lost my mum to cancer many years ago and before she died she was looking for something, something not just to comfort her but to help her fight the cancer. Reading On Dragonfly Wings almost echoes the experiences we had together when we started down the new path of what was to eventually become a huge part of our lives.
My mum lost her battle with cancer but because of all the similar experiences we had to those in this book, she touched many more lives and shone so much brighter as a result. Together we went on shaman journeys, learned to use dowsing rods and crystals, we both studied Reiki and became Reiki Masters, learned magnified healing, met our spirit guides and many more different things. We met lots of wonderful people who touched our lives in a way that I will remember forever.
This book has brought back so many memories that I hadn't thought about for a long time, it's made me both smile and shed a tear. Thank you Daniela for sharing your journey, I will be reading this book many times over in the future as it will help in a way to keep those memories closer for me.
So that's my top books of 2014. Now for the biggest flop of the year. The award for the biggest flop of 2014 goes to...
Gypsy Hunted by Andrea Drew
(click for review)
Although this is the biggest flop of 2014, I have to admit that it's got to be the worst book I have read ever. The premise sounded good but the book itself was unreadable. The author doesn't know how to
structure a sentence properly. It was all over the place.
For example:
"Her dark hair was just the same as it had always been, her hair part poking through amongst the mess her mouth set in a grimace, accepting all that was barely tolerable."
"I spoke through flattened lips, past my neck in which a vein was pulsing and engorged."
I had to reread certain parts so many times to try and understand what was happening, what was being said and who was doing what, that I gave up in disgust. Add to that a lot of the
'Let's eat Grandma!' effect.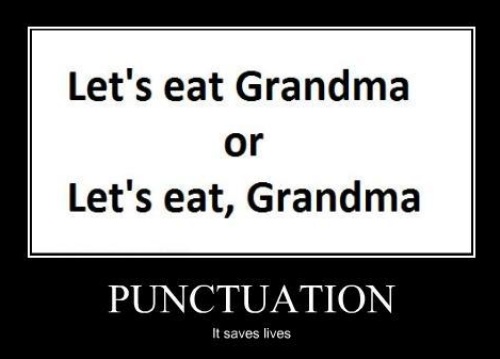 So there you have it, my year in books. I hope you all have a year full of wonderful books ahead of you and I have enjoyed meeting and getting to know all you book buddies here and on Goodreads. You have introduced me to so many great new authors that I wouldn't have found without you and I've had lots of fun talking books and getting to know you all. Here's to another year filled with lots more of the same!